Our aim is to be a reliable source of good quality Burgundy that is ready to drink.
We believe that the vast majority of burgundy offered for sale by traditional merchants is far too young – frequently disappointing and certainly not truly ready to "give of its best". If they do offer older wines, many merchants provide only a list of wines, without commentary or tasting notes. By its nature, Burgundy is complex – making it difficult to know what wines are going to taste like – let alone which are better (or less good), and when they will drink well.
So, we try to offer only wines that are ready to drink – meaning typically wines in their first 2 or 3 years of life (to drink on the fruit) or wines that are at least eight years old.
This is backed up by our own score wherever tasted, together with those of "burgundy experts" such as Allen Meadows, John Gilman and Jasper Morris.
We specialise in the great wines of the Cote d'Or, though we also offer other red and white Burgundy such as Chablis, Maconnais, Beaujolais and even some Pinot Noir wines from other regions of the world when we believe they offer the same quality drinking experience.
We also broker well-stored wines from private individuals, but cannot provide tasting notes, ratings or quality guarantees for these wines.
We hope to help you choose with confidence and drink with pleasure so are always happy to provide personal advice. Whether you are exploring burgundy for the first time, buying wine as a gift, or looking for something special just drop us an email or give us a call!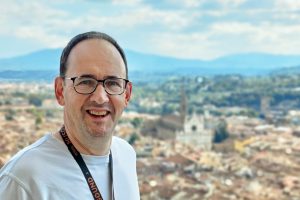 Every bottle on our website shown as "Immediate" availability is really in stock in our temperature controlled storage facility, or at our bonded warehouse. You can buy any quantity from a single bottle upwards, with specified day and gift delivery services available.
The business was established by Peter Sidebotham in 2006 after leaving a sales and marketing career in the chemical industry. Peter foresaw the decline of chemical manufacturing in the UK and, with one eye on a future change of career, studied for and passed the Wine & Spirit Education Trust's advanced certificate with distinction. This combined, with his previous 20 years experience as a dedicated consumer of Burgundy, set the background for Hand Picked Burgundy to become a top-notch source of fine Burgundy – a "sweetshop" for Burgundy lovers and explorers.
We hope you enjoy browsing the site, and of course any wine that you buy from us.